Flora Poison Ivy is a Metahuman Class Hero. She is a Gold Metahuman character.
Abilities
Edit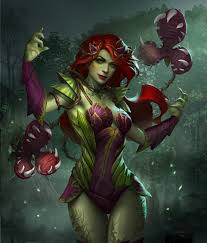 Re-Leafed
Vine Drill
Datura Hammer
Basic Attacks
Edit
Play Style
Edit
Stat Construction
Edit
Team Construction
Edit
-Flora Poison Ivy unlike Entangling Poison Ivy has two plants sprouting out of her back which is similar to the Injustice 2 console version.
.Flora Poison Ivy range attack is blasting projectiles from her plants at her back while Entangling Poison Ivy summons a plant creature (which is her CHARACTER POWER in the console version) to fire projectile at her opponent.