Multiverse The Flash is a 3-star base gold Meta-human hero.
His shards can be earned in certain Arena seasons and bought with Arena Medals in the Arena store.
He can be obtained in the Shared Realities chest at a 1% chance. He can also have shards received from the shard version of the chest.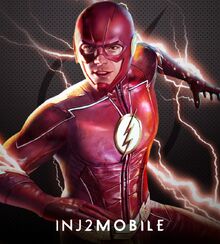 He's based on Grant Gustin's portrayal of The Flash in The Flash (2014 TV series).
He is one of the first characters to have 3 passives instead of 1. Multiverse Armored Supergirl is the first, and he was released before her with one passive and later refactored into having 3.
His equivalent on the first Injustice Mobile game is Metahuman Flash.